When I watched a dorama called Ichi Rittoru no Namida (1 Liter of Tears), I fell in love with one of the song -recently I found that it was Sangatsu Kokonoka-. It was the song of Aya's classroom. Listening to Sangatsu Kokonoka always remind me of how yasashii Asou Haruto was (Yup, kare ni koi wo ochichatta, so what?). Then I finally found that it was one of Remioromen single.
Remioromen is JRock (or JPop??) band. It is a BAND, not a Johnny's Entertainment pretty boy groups. You should not expect them to be as pretty (or handsome??) as Kamenashi Kazuya, Akanishi Jin or Takizawa Hideaki.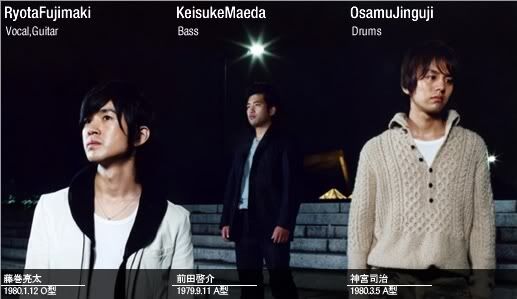 Besides Sangatsu Kokonoka, Konayuki was also used as the insert song of the dorama Ichi Rittoru no Namida. Konayuki was the number two best single in 2006 according to
ORICON chart
.
I downloaded all of Remioromen singles and albums in
Jpopmusic forum
. Most of the links posted there are Sendspace links. Here I will not upload the full singles or albums. I just upload my favorite songs. If I feel very generous (LOL), then I may consider to upload the whole singles and albums. Do comment if you want me to upload other Remioromen songs.
This is my original upload. No need to comment if you take. No need to make credit when you post it to other forum/blog. I decided where I would upload, don't request. If you can't download from Megaupload, follow
this guide
.
Some songs were recorded in more that one album. Here, I will upload once only. If you prefer to download the full version (singles and albums), please visit
Jpopmusic forum
. Although it is an English forum, sometimes they write the song title in Japanese.
The italics ones are my favorites.
Asagao
1. Mame Denkyu
2.
Ame Agari
:
MEDIAFIRE
MEGAUPLOAD
3. Himekuri Calendar
4. Beer to Pudding
5. Asagao
6. Shouwa
7. Sukima Kaze
8. Festa
9.
Denwa
:
MEDIAFIRE
10. Taxy Driver
11. Tsuikakekko
Ether

1. Shunkashuutou
2.

Moratorium

: MEDIAFIRE MEGAUPLOAD
3.

Haru Keshiki

: MEDIAFIRE MEGAUPLOAD
4.

Akashia

: MEDIAFIRE MEGAUPLOAD
5. Eien to Isshun: MEDIAFIRE
6. Shunkokyuu
7. Dog Year: MEDIAFIRE
8.

Satsuki Ame

: MEGAUPLOAD
9. Cosmos
10.

Sangatsu Kokonoka

: MEGAUPLOAD
11. Minami Kaze: MEDIAFIRE
12. Umi no Ballad: MEDIAFIRE



Horizon


1.

Stand by Me

: MEGAUPLOAD
2. 1-2 Love Forever: MEDIAFIRE
3. Program: MEDIAFIRE
4.

Ao no Sekai

: MEGAUPLOAD
5. Shift: MEDIAFIRE
6. Kasa Kurage: MEDIAFIRE
7.

Taiyou no Shita

: MEGAUPLOAD
8.

Monster

: MEGAUPLOAD
9.

Asu ni Kakaru Hashi

: MEGAUPLOAD
10.

Kami Fubuki

: MEGAUPLOAD
11.

Konayuki

: MEGAUPLOAD
12. Ryuusei: MEDIAFIRE



Festa


3. Nami



Flash and Geam


2-1. Airando



Other Singles


1. Nichiyoubi
2. Natsu mae Coffee
3. Bokura wa
4. Nijiiro
5. Loop
6. Ikitzuki
7. Gogo no Tekiatsu
8. No Border
9. Chime
10. Shinkirou

CREDITS: JPOPMUSIC